Members - Edit your Site Info Here
Enter your ID and Password below.

Forgot your password?


Enter your site ID below to have your password E-mailed to you.

The Original Lurcher Ring Statistics.

The Original Lurcher Ring Sites List.

How To Join:

Step One: Fill out the form at the bottom of the page. The site URL must be the page with the ring HTML fragment on it. If the E-mail address is not correct your want be added to the ring. Please, check for error twice!

Step Two: Then paste the Ring HTML Fragment onto your page. (The ring fragment will be emailed to you once you submit your site to the queue. Or you can use the HTML fragment that will be on the page after you submit the join form). Don't modify the HTML code, the code is automatically authenticated by the ring system, if you modify it your want be added to the ring.

Step Three: Email me at (LurcherRing@bigfoot.com). Tell me that you put the webring panel on your page and you're ready to be added to the ring. Please don't forget to send me your site ID.

Step Four: I'll have a quick look to see if everything is working and then add you to the ring.

P.S. The ring panel should look like this.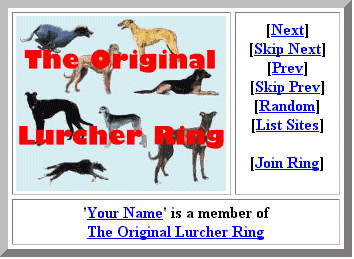 For help LurcherRing@bigfoot.com